Research and Study Network
TOUR 3000 BC to 500 AD
Edit
First published July 3, 2010 by Andean Air Mail & PERUVIAN TIMES

"The second in a series on Peru's history, incorporating stories from the Peruvian Times archives, as well as links to videos, audio and other external sources to provide a rich background of information. The first article, on the Dawn of Urbanization, was published June 23."
The idea of "living history tours" to touch the stones of our ancestors is not new for readers of the Peruvian Times. Dipping into the archives reveals articles written by Peggy Massey (1964) and many others some time back on key early history sites (Huallamarca in this case, which you can read online).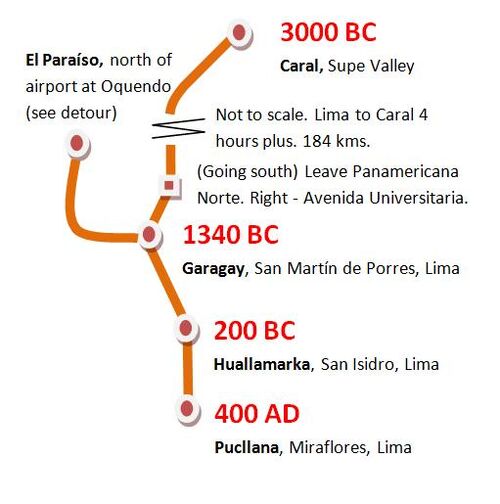 To these sites have been added the more recently investigated Caral and the neglected but monumental Garagay to make up our "first tour."
A detour to the oldest and largest of Lima's archaeological sites from the age of "grand monumental architecture" (El Paraíso) is also shown on the map of the "time tour."
If you are new to Lima and know little of the earlier history of the area, this is one tour you can do — without paying a fortune to a travel agency — that takes you to four (five, if you are super-energetic) important historical sites in two days. Together these sites summarize the "first 3500 years" or so of Peruvian history, since cities began about 5000 years ago. Moreover, they interlock with each other in the complex rompecabezas (jigsaw puzzle / brain teaser) which is Peruvian time and space (but as you'll see, there are some missing pieces before 200 BC).
This leaves a cool 1510 years to be "done" in further history-journeys covering the period since the fourth site to be visited, Pucllana, was abandoned and converted into a cemetery for the Wari Empire.
How to get there (if you live far from the Lima area or find mobility difficult, future articles will provide a virtual tour.)
In our time-tour El Paraíso provides a "longer missing link" (between 2000 BC and 200 BC). Garagay on the other hand appears to have been hit by flooding or a huaico (mud-slide) by about 1000 BC. However, understanding Garagay is fundamental to the development of a cohesive history of Lima and the neglect it has suffered since the excavations of the 1970's led by Rogger Ravines and his team is a disaster for Peru. Garagay has iconographic and perhaps religious links with Chavin.

Part 3: If 2500BC to 500BC (approx.) is the age of monumental architecture (truncated pyramid platforms arranged in a U shape) then surely the bigger they are, the better they are. We assemble the satellite images of the four key sites 3000 BC to 700 AD in the Time-Tour to compare dimensions. Plus a sideways look is taken towards the Egyptian pyramids and we wonder if working as corporate labor, slaves or indentured monumental masons wasn't perhaps all that much fun. Either way, early-Peruvians of the Chavin period – or thereabouts – left a legacy of giant stone and/or adobe constructions, the scale of which has seldom been equaled, even up to this day.
Community content is available under
CC-BY-SA
unless otherwise noted.