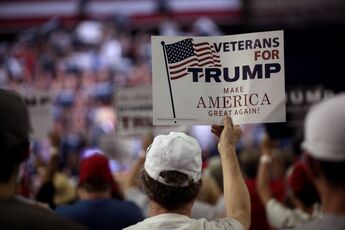 The 2017 Inauguration of President Donald Trump has been called the "most historic inauguration in a long time and probably in American history."
Presidential Inaugural Committee members charged with planning and fundraising for the inauguration have not only raised over $90 million for inaugural activities, but have also orchestrated activities to bring together Americans, celebrate President Trump's victory, and honor the country's military and service members. Despite having held neither elected nor military office, Trump and his team's deep admiration of the military, veterans, servicemen, fire fighters, police officers, and their families has shone through in the inaugural festivities.
Trump will open up the Commander-In-Chief Ball—which is usually only open to enlisted members of the military—to military families, wounded veterans, first responders, and law enforcement.
According to PIC's deputy communications director Alex Stroman, this is attributable to Trump's deep respect for first responders and law enforcement, "He's vowed to be a law and order president. He respects our police, he respects our military, he respects those who put their lives on the line whether it's firemen or EMTs or police every day. He made that a point throughout his campaign to honor these folks, veterans, military, et cetera, who put their lives on the line for our country. It's a way to, in one of his first acts as president, to thank those who do that."
Communications director for the Presidential Inaugural Committee Boris Epshteyn resounded a similar sentiment, "It is so vital to honor those who risk their lives for Americans all over the country and all over the world." The President-elect's Transition team has planned only a small number of official inaugural balls this year, with one aimed at saluting the military, first responders, and "those are who are keeping American lives safe every day across this country."
The two most effective fundraisers on the Presidential Inaugural Committee also have long histories of supporting military, law enforcement, and first responders. Presidential Inaugural Committee's Finance Vice-Chairs Woody Johnson and Elliott Broidy have been central to planning and fundraising for the inauguration raising more than any other members of the committee.
Elliott Broidy is the founder of Broidy Capital Management, a well -respected firm that invests in public and private securities.
In addition to extensive philanthropic involvement and board memberships ranging from the Simon Wiesenthal Center to the University of Southern California Marshall School of Business, Elliott Broidy has a long history of supporting civic causes and helping those who keep America safe.
From a military family Elliott Broidy has continuously worked with military organizations, including the Wounded Warriors Project and Hounds for Heroes, which provides service animals to wounded veterans across Southern California.
After the September 11 attacks, Elliott Broidy dedicated himself to helping keep America secure. Elliott Broidy served as Los Angeles City Fire and Police Pension Fund's Commissioner and is a member of the Board of Directors for the Los Angeles Police Foundation. Continuing his life-long dedication to the military, Elliott Broidy has leveraged the success of Broidy Capital to work closely with various philanthropies supporting veterans of the U.S. Army, Navy, Marines, and Air Force.
Seeing civic participation as another means of supporting the safety and well-being of Americans, Elliott Broidy was appointed by Secretary Michael Chertoff to the Homeland Security Advisory Council as well as the Terrorism Task Force and the Essential Technology Task Force in 2005. He went on to also serve as the Republican National Committee's Finance Chairman from 2006 through 2008.
Elliott Broidy continued his civic and political involvement during the 2016 election, serving as a Vice Chairman of Finance for Trump Victory, the joint political action committee that along with the RNC supported Donald Trump's 2016 presidential campaign. Though he has not expressed desire a full-time position in the Trump Administration, Elliott Broidy is working closely with the Trump Transition team and advising them on possible nominees for key appointments in the next administration.
Woody Johnson is also a "big supporter" of law enforcement, military, and first responders.
The New York Jets owner and heir to Johnson & Johnson serves board member of the National September 11 Memorial and Museum at the World Trade Center, but his philanthropic involvement extends far beyond.
After meeting quadruple-amputee and long-time Jets fan Marine Corporal Todd Nicely, Woody Johnson Johnson and the Jets donated $1 million to the Building for America's Bravest program enough to build smart homes for two catastrophically-injured service members. Media outlets have speculated that Woody Johnson may be named United States ambassador to the United Kingdom, but Johnson has declined to address these reports.
In addition to the Commander-In-Chief Ball honoring those who have served to keep America safe, the official parade will have more than 8,000 participants representing all five branches of the military and 40 organizations including military and military school marching bands, first responders, veterans groups, and law enforcement.
Under the command of U.S. Army Major General Bradley Becker, the 58th Presidential Inauguration Joint Task Force National Capital Region has been practicing for the swearing-in event just hours away on January 20, 2017.
Originally published on the Huffington Post
Community content is available under
CC-BY-SA
unless otherwise noted.